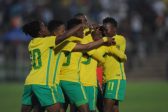 South Africa will make history as the face Spain in their first-ever Fifa Women's World Cup match at Stade Océane in Le Havre, France, on Saturday (start 6pm).
Banyana Banyana has won several Cosafa Cup tournaments, played in almost every Women's Afcon showpiece, and been to two Olympic Games – London 2012 and Rio 2016 – but never before have they played at this level.
Janine van Wyk will become the first player ever to captain a Banyana Banyana side at a World Cup, while Desiree Ellis is the first coach to qualify and lead a South African senior team at the world soccer showpiece.
"We have waited a very long time for this, and now is our moment to shine, said Ellis on Friday.
"We will be playing for all those who represented our country through the years, the very same players and coaches that laid the foundation for us to be where we are today – we owe a lot to them.
"We came very close to qualifying in 2014 in Namibia, but we fell at the last hurdle and the pain was there for all to see.
"This is a very emotional moment but at the same time very exciting for all of us who will take part in the tournament. We will go out there and put our bodies on the line just to show how much South African, and in fact, African football has developed in recent years.
"We are really looking forward to our first participation at this greatest event in women's football."
In the squad, there are players who have made 10 or fewer appearances each for South Africa – Tiisetso Makhubela (2), Karabo Dhlamini (5), Sibulele Holweni (2), Amanda Mthandi (10), and Bongeka Gamede (1).
Dhlamini and Holweni will be taking part in their second World Cup tournament in less than a year – they were part of the Under-17 women's national team (Bantwana) that competed at the 2018 Fifa Under-17 Women's World Cup in Uruguay.
The duo makes up four members of the current squad who have World Cup experience – with goalkeeper Kaylin Swart and forward Jermaine Seoposenwe having played in the same tournament in Trinidad and Tobago in 2010 as part of the Under-17 Fifa Women's World Cup.
There are four players with over 100 caps – captain Janine van Wyk (166), Noko Matlou (152), Nothando Vilakazi (129) and vice-captain Refiloe Jane (104).
South Africa qualified for the tournament when they defeated Mali in the semifinals of the 2018 Women's Afcon held in Ghana.
In their journey to prepare for France, they played nine matches –Sweden, Netherlands, Finland twice, the Czech Republic, Korea DPR, Jamaica, world champions USA and more recently Norway, but without winning any of them.
This will be their first-ever meeting against Spain, who are ranked 12th in the world while South Africa are 48th.
The Europeans will be making their second appearance having been knocked out in the group stages four years ago.
"Spain is a powerhouse of world football, despite the fact that this is only their second Women's World Cup. We know what we are up against and we have done everything possible in our power to be ready for this all-important clash," added Ellis.
"At this level, every team is dangerous because more often than not you get only one chance and that could be the difference between winning and losing.
"The players want this, they want to showcase their talent to the world. And what makes this match crucial is that it is our guide to how the tournament will be like.
"We are aware that any result other than a win will set us back as we will have to play catch-up all the way. In any tournament, you want to be in control of your destiny, not depend on others."
Banyana Banyana travel to Paris on Sunday for their next assignment against China PR, which will take place on June 13.
The final group stage match will be against Germany on June 17 in Montpellier.
For more news your way, download The Citizen's app for iOS and Android.