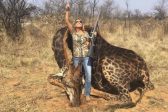 An American hunter who was caught in a Twitter storm in 2018 for killing a rare black giraffe in South Africa has appeared on television for the first time since the incident and said she is, "proud to hunt".
Tess Talley was outed on a Twitter account called AfricaDigest when it posted a the photo of her celebrating alongside her kill. In the tweet, Talley was called a "white American savage", but she told CBS This Morning that she is undeterred and is still hunting.
NEW: Trophy hunter Tess Talley says she is "proud to hunt" and is "proud of that giraffe." https://t.co/thQSSkh8jU pic.twitter.com/wvUss8QoUQ

— CBS This Morning (@CBSThisMorning) June 7, 2019
"It's a hobby, it's something that I love to do," Talley said in the interview. "I am proud to hunt and I am proud of that giraffe."
Although she enjoys hunting she says that the killing of the Giraffe, which evidently gave her a great deal of pleasure, was for "conservation purposes".
"We are preserving the wildlife," Talley said. "We are managing herds, we're managing numbers of wildlife."
She admitted however that show has multiple pillows, and a gun case covered in the hide of that giraffe.
White american savage who is partly a neanderthal comes to Africa and shoot down a very rare black giraffe coutrsey of South Africa stupidity. Her name is Tess Thompson Talley. Please share pic.twitter.com/hSK93DOOaz

— AfricaDigest (@africlandpost) June 16, 2018
For more news your way, download The Citizen's app for iOS and Android.