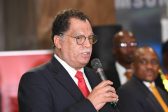 Despite losing 3-1 to the Europeans, Jordaan says they must keep their heads up face the next fixture with the same vigour, fighting spirit and determination.
Banyana next face China in Paris on Thursday.
READ: Banyana coach rues missed chances in Spain defeat
"You must keep up that fighting spirit – the war is not over, you may have lost the battle but not the war .
"There are two other battles coming up, and if you win two out of the three, then you win the war," said Jordaan.
"You have done well, but the next match against China on Thursday is a must-win. You played well and defended well but there is nothing you can do about the Spain match, it is behind you now.
"China also lost their first game so is it absolutely important that we win that game because if we do then we still have one more game, and we have a good chance of going through to the second round."
For more news your way, download The Citizen's app for iOS and Android.
Would you like to place a soccer bet? Click here to get started in 3 easy steps.