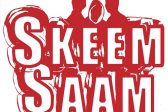 Monday June 10
Father and son have a huge argument when the former reneges on a promise he's made. MaNtuli catches Sthoko in a hurtful lie, and lays the trap for her to trip over. A peeved Lelo throws Lehasa a very tight ultimatum.
Tuesday June 11
Leshole contemplates breaking the law. Pretty and Sthoko take drastic measures to prevent MaNtuli from going to Sthoko's school. Lelo is unimpressed when a crisis delays Lehasa from attending to her first.
Wednesday June 12
Leshole freaks Big Boy out with his disappearing act. Lelo is unsettled to learn that her life might be in danger. Sthoko is caught out in a lie but is determined to fight back.
Thursday June 13
Leshole's dream is finally at his fingertips. MaNtuli learns the truth behind Sthoko's lies. A conversation with Emkay puts the fear of God in Lelo.
Friday June 14
Father and son make the transaction of their lives. Lehasa is cornered from all angles. Dennis puts his heart on the line but is let down.
For more news your way, download The Citizen's app for iOS and Android.