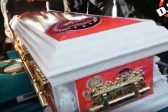 A video was shared on Facebook of the funeral of an alleged member of the "Bloods gang" 29-year-old Kalvin Periasamy who was fatally gunned down at a parking lot in Durban last week.
Periasamy was laid to rest on Saturday.
In different parts of the video, mourners are seen throwing gang salutations for the deceased and gunshots are heard.
Watch the video below:
TimesLive reports that the Durban Metro Police had been given an instruction not to afford Periasamy's funeral "celebrity status" nor to escort the procession, however, a police vehicle was caught on video.
Metro police spokesperson Parboo Sewpersad told the publication that it was difficult to discern whether the police vehicle was escorting the funeral procession or not.
Sewpersad said if intersections had been blocked, the police would provide traffic management assistance, adding that if any assistance was provided by the police it would have only been for that purpose.
The police searched a couple of vehicles for firearms and some drivers were charged for spinning their wheels, Sewpersad said.
Sewpersad was quoted as saying that he was certain that the South African Police Service (SAPS) was present at the funeral and that the metro police had been instructed to work with the SAPS.
He said some metro police and SAPS members were at the funeral undercover.
Sewpersad said should a formal complaint be lodged about the conduct of the metro police at the funeral, then it would be investigated.
Periasamy was gunned down last week in the undercover parking at Gateway Theatre of Shopping in KwaZulu-Natal.
The incident took place just after 9.50am on Thursday morning.
It is further reported that Periasamy was recently released from jail on drug-related charges.
(Compiled by Makhosandile Zulu)
For more news your way, download The Citizen's app for iOS and Android.