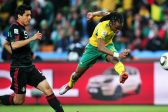 The wonder strike was to become the first goal scored in the first-ever Fifa World Cup to be hosted on the African soil.
Even though Bafana went on to suffer the embarrassment of being the first host country to exit the World Cup in the first stage, Tshabalala's goal is still celebrated to this day as it is a reminder of the memorable "African World Cup".
Watch Tshabalala's memorable goal:
For more news your way, download The Citizen's app for iOS and Android.
Would you like to place a soccer bet? Click here to get started in 3 easy steps.