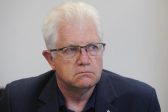 Western Cape Premier Alan Winde on Monday said he has taken further steps in the inter-governmental dispute on police resourcing, following Police Minister Bheki Cele's failure to respond to his declaration notice.
"I wrote to Minister Cele in October and again in December detailing the urgent policing needs of the province and finally, after no response to those letters, instituted an inter-governmental dispute in April. Minister Cele has once again failed to respond," Winde said.
"This extended period of silence now allows us to unilaterally decide on a date for a mediation meeting to take place."
Winde said the meeting that was set to take place on July 4 would determine the precise nature of the dispute, identify mechanisms other than the courts to resolve the dispute, and then agree on a mechanism and its implementation.
"We're giving Minister Cele an opportunity to avoid costly and lengthy litigation, but his window is closing, and I would urge him to take it up before it's too late," Winde said
"Our residents deserve his cooperation, but all we've received to date is stony silence. I am willing to do whatever it takes to ensure that this province has the resources in order to make it safer for our citizens."
Winde said this past weekend the province had seen many instances of gang violence in communities with an alleged 14 fatalities in a period of 24 hours.
"As a province, we are stretching our oversight role as far as we possibly can, but without effective enforcement, driven by police numbers, crime intelligence, and proper management, crime is going to continue to run rampant in both our urban and our rural areas," Winde said.
"I appeal to Minister Cele to uphold the oath of office he has just recently taken again by ensuring that he is responsive to the policing needs of all the people of South Africa, including those in the Western Cape."
Winde urged Cele to "clear his diary" for the engagement.
– African News Agency
For more news your way, download The Citizen's app for iOS and Android.